by Sam Roxas-Chua 姚

I remember those days
after the tsunami, stories
of upturned slippers
from children found
hanging under the bloat
of their mother's breasts–
stars suckling midnight
out of the sky. Fish,
my mother had her eye
on you. I watched her tip-toe
over a wall to tell Mao-Mao
about the mountain salts
she will coat your body with
and which peacock claw to use
and slice your cheeks with.
She said she will insert songs
of rolled coriander into you
because you will be
the melody in the maw
as your body bakes under
turtle-sized rocks. Tomorrow,
she will ask me to catch you
before the orange hours.
I will refuse. Because my boats
are made from wooden caskets now
and my feet glow inside my shoes.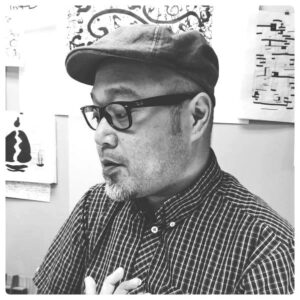 Sam Roxas-Chua 姚 is the author of "Saying Your Name Three Times Underwater," "Echolalia in Script," and "Fawn Language."
His poems, artworks, and asemic writings have appeared in such journals as Narrative, December Magazine, and Cream City Review. An essay/review of his two recent books appeared in both the Georgia Review and Rhino Poetry.
His poetry sequence "Diary of Collected Summers" was awarded the Missouri Review's Miller Audio Prize, and, most recently, he was interviewed by Gulf Coast Journal.